Decree to Disband French Foreign Service Is an Attack on Diplomacy
Like many politicians, President Emmanuel Macron doesn't understand that diplomacy is a profession and confuses expertise with elitism.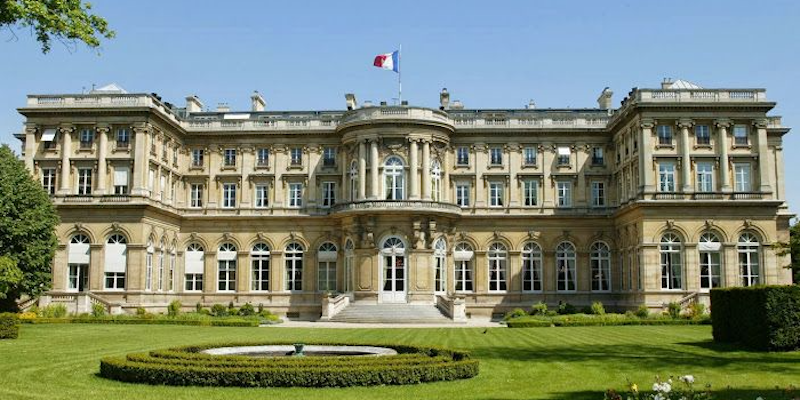 The vast majority of countries in the world don't have diplomatic services. They do have embassies and consulates abroad that need to be staffed, so they send some of their civil servants or political appointees to fill various positions, usually without any training in diplomacy. Because these envoys are issued diplomatic passports, they tend to think of themselves as diplomats. But they are nothing of the kind.
France, on the other hand, along with several other mostly developed countries, has had a diplomatic service for decades. At one point, it was the envy of the world — in fact, the French have often laid claim to inventing modern diplomacy. So it came as a shock to many when, just days before his reelection last week, President Emmanuel Macron issued a decree that, in effect, will begin dismantling the French Foreign Service as soon as this year.
In his professed attempt to fight elitism in his government, Macron has made clear that he doesn't understand that diplomacy is a profession, not a playground for amateurs, however intelligent and experienced in other walks of life they may be. In his misguidedness, he is hardly an exception. Most politicians anywhere have a profound misunderstanding of what diplomacy is. They see it as similar to politics, where a lack of political experience is often an asset.
At a time when more governments should be building and strengthening professional diplomatic services, France is about to do exactly the opposite, bringing it closer to developing countries. Instead of the permanent Foreign Service, whose members spend most of their careers abroad, Macron plans to send employees from across the government to staff embassies and consulates. Professional diplomats, meanwhile, will be folded into the much larger civil service and work in various ministries in Paris, with occasional stints abroad. Some former French diplomats already fear that Macron's decree could open the door to a U.S.-style practice of dishing out ambassadorships as political favors.
Macron is right to worry about the lack of diversity in the French Foreign Service. Its efforts in recent years to address the white-and-male problem have been utterly insufficient. But the solution is not to disband the service. There are many ways to overhaul the current system of recruitment, entrance exams and promotions in every country with a diplomatic service. In the United States, the State Department has made progress, even if limited, and the U.S. Foreign Service is the most diverse in the world.
Macron should also expand and strengthen the French Foreign Service, which currently has only about 800 diplomats — 10 times fewer than their American counterparts. This is another problem globally, with diplomatic services chronically understaffed and overextended. India, with more than 1 billion people, has about 850 career diplomats, accepting an average of just about 30 new ones annually. Put in context, the American number is not as impressive as it may sound — diplomats are still fewer than members of U.S. military bands. Being starved of resources is another seemingly permanent condition of every diplomatic service. In the United States, the foreign affairs budget has long been at least 12 times smaller than defense spending. In China, the discrepancy is closer to 20 times.
Some French diplomats believe that Macron harbors suspicion of the Foreign Service, citing his 2019 warning that the service risked becoming a "deep state." They link that episode to his displeasure at the time with criticism in the service of his desire to forge closer ties with Russian President Vladimir Putin. Accusing career diplomats of being disloyal is a familiar refrain in many countries, not least in the United States, especially during Republican administrations. This is yet another indication of politicians' poor understanding of what diplomacy is and what diplomats do, leading them to conclude that amateurs loyal to them personally would serve them better than professionals.
Diplomacy is, in fact, a real profession, with unique duties, responsibilities and skills built with time and experience. Career diplomats manage a country's relations with other states, understand and engage foreign societies, influence governments and publics, conduct difficult and consequential negotiations, anticipate threats and take advantage of opportunities. The chances that a civil servant who has spent his entire career in Paris will be able to navigate another country and get things done are no better than a diplomat leading an army to victory on the battlefield.
Diplomats take pride in the expertise they accumulate and are eager to give their political leaders their best advice. Sometimes, that may come off as criticism of existing or proposed policies, and perhaps even as arrogance. But when it comes to carrying out those policies, they display unmistakable loyalty. Serving the leaders their fellow citizens have elected, regardless of their own political beliefs, is an integral part of their professionalism. It's one of the first things they are taught when they join the Foreign Service.
In addition to diversity in the French service, efforts to strengthen it should include improving the way it trains its new diplomats to make it less stale and more pragmatic. Insufficient training and professional development has plagued most governments for a long time. The little they provide tends to focus on history, bureaucratic structures, policy and regional studies, which one can learn elsewhere, but there is scarce formal instruction in the above-mentioned skill sets, which are also known as diplomatic tradecraft.
Diplomats are expected to learn those on the job, which can take a long time. Only recently have countries such as Britain and Australia taken steps to address that deficiency by establishing diplomatic academies. The Australian academy is a year younger than the independent Washington International Diplomatic Academy, which I founded five years ago, and which the Australian foreign minister at the time mentioned at the official opening in Canberra in 2018.
If few countries have diplomatic services, even fewer have training centers. Established in 2010, the French Diplomatic and Consular Institute is a little older than most and, along with similar centers in the United States and Germany, among the better ones globally. Macron's plan is all but certain to make things worse. It's the wrong medicine for treating the elitism problem — it's unlikely to cure it but sure to make French diplomacy markedly less professional, just as diplomatic efforts to help end Putin's war in Ukraine are expected to intensify. Just as important, the overhaul of European security after the war will need skillful and effective diplomacy. It should be entrusted to professionals.
During his first term, Macron set high ambitions for making France a more serious leader in international affairs, as well as strengthening ties and engagement with French-speaking countries in Africa. His second term begins with a blueprint that would bring France's diplomatic infrastructure closer to that of some of its former colonies, which have never had proper diplomatic services. He is setting an example that no politician who puts the national interest first should seek to follow. Expertise and professionalism must not be confused with elitism.