'I Will Not Let You Down': Blinken Gets B- for First 8 Months at State
The secretary hasn't quite managed to keep his promise to employees, but he hardly deserves all the blame.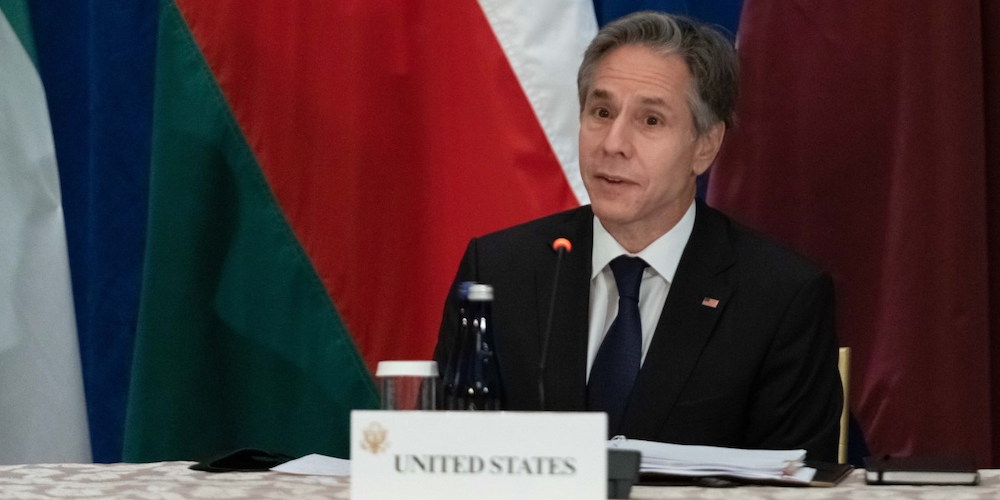 Eight months ago today, Antony Blinken was sworn in as U.S. secretary of state. As he entered the State Department the next morning, he made this promise to the assembled employees, as well as to many more watching around the world: "As secretary, I will not let you down." Has he kept his word?
Many of my former Foreign Service colleagues will say no. Some of them are frustrated with Biden administration policies or actions, including those in Afghanistan and on the U.S. southern border. Others are disappointed that Blinken has been slow to take on systemic management problems and hasn't been able or willing to counter the White House's impulse to appoint a large number of unqualified nominees to serve as ambassadors. Moreover, ambassadorships that have traditionally gone to career diplomats, such as those in Turkey, Chile and Paraguay, have been handed to political appointees. And almost 70 ambassadorial posts are still vacant.
But is Blinken to blame for these disappointments? After all, although the secretary has great authority, he can be overruled on policy matters by the president. In this case, Blinken's two decades of working for Biden during his time as senator and vice president, and Blinken's familiarity with Biden's thinking, were cited as perhaps the secretary's biggest asset when he was first nominated for the position. Still, the White House has at times overruled the chief diplomat in almost every administration, so it's possible it has happened in this one, too.
The high expectations of the Biden team among the State Department workforce have fueled the frustrations. After four years of being ousted, sidelined, ignored, insulted and demoralized by the Trump administration, career officials' hopes for meaningful changes haven't materialized. Even though the current administration has publicly expressed support for them and committed to a responsible foreign policy, political and bureaucratic realities have meant that many of those promises haven't been kept. In addition, the administration's own messaging from the start helped raise the unrealistic expectations.
There is no doubt that some of the Trump team's decisions and actions have impeded the Biden administration's work. The 2020 agreement with the Taliban was just the beginning. In the 11th hour, Trump's secretary of state, Mike Pompeo, changed several U.S. policies, clearly intending to box in the incoming administration and create difficulties. He designated the Iran-backed Houthi movement in Yemen as a terrorist organization, a move that would seriously hamper aid groups' ability to deliver food and other humanitarian assistance to Yemen's suffering population. Pompeo also lifted restrictions on official U.S. contacts with Taiwan, which created problems with China. A quick reversal of these decisions was no better option than keeping them in place.
On the management and personnel front, some of Biden's initial appointments were delayed by the refusal of Emily Murphy, Trump's head of the General Services Administration, to recognize the November election result and allow the transition to begin. Once that was resolved, however, the White House was unusually slow in nominating ambassadors and senior State Department officials compared to most previous administrations. The Senate's lethargic confirmation pace and a single senator's decision to hold up certain nominations are partly to blame for the dozens of vacancies. But the administration hasn't even announced ambassadors to many countries, including Britain, South Korea, South Africa, Saudi Arabia, Australia, Italy, Belgium, the Netherlands, Denmark, Sweden, Norway and Finland, all of which are expected to go to political appointees, as they usually do.
Ambassadorial appointments have been a perennial sore point for career officials. In spite of the Biden administration's public support for Foreign Service officers, it has selected a surprisingly large number of politically connected but unqualified non-career nominees, to whom the president apparently feels indebted. Patronage appointments are as old as the republic — in fact, they were the norm until the Foreign Service was established in 1924. But professional diplomats expected Biden, who understands the intricacies of diplomacy better than most politicians as a former chairman of the Senate Foreign Relations Committee, to walk the talk. 
It's not clear whether Blinken has tried to push back on some unqualified nominees or to challenge taking more and more posts away from the Foreign Service in favor of political appointees. In 2009, when the Obama White House was on track to exceed the historical norm of one-third of ambassadorships going to non-career nominees, then-Secretary of State Hillary Clinton managed to head off that effort. Given the Biden team's intentions, it might be wise for Blinken to take a cue from Clinton.
It has been challenging for Blinken to manage the State Department bureaucracy. With much fanfare, he appointed the first-ever chief diversity officer, who reports directly to him, to increase diversity in the department's ranks. However, the budget for that office, which is prepared by career officials, was barely enough to hire staff, with not a penny for programs.
Taking all this into account, I would give Blinken a B- for his first eight months in office. Recognizing the mess the administration inherited and the toxic partisan environment in which it has to work, it's unfair to assign the secretary of state all the blame. On both policy and management, he could do more, as can the White House. It should pick up the pace on nominations, shifting the onus onto the Senate, if it continues to drag its feet. It's unrealistic to expect the administration to do away with political appointments, but nominees should be demonstrably qualified for the jobs. Running a private company or even an American city may be impressive, but absent active experience in international affairs, it doesn't necessarily make one an effective diplomat.
To those unhappy with the pace of change in the State Department, get real. Expecting sweeping reform in the current political climate is naïve. Even a president can do only so much. This doesn't mean that we shouldn't hold leaders accountable. As for Blinken, "I will not let you down" may not have been the wisest promise on his first day on the job.
ABOUT THE AUTHOR
Charles Ray is a former U.S. ambassador to Zimbabwe and Cambodia, deputy chief of mission in Sierra Leone, and consul-general in Ho Chi Minh City, Vietnam. He spent 30 years in the Foreign Service and now teaches at WIDA.
The opinions and characterizations in this article are those of the author and don't necessarily represent the views of the U.S. government, the Diplomatic Diary or WIDA.