'Youth Ambassador' Got a Taste of Diplomacy at Dubai Expo
Fresh out of college, I joined 74 other Americans to staff the USA Pavilion, which celebrated freedom, diversity and innovation.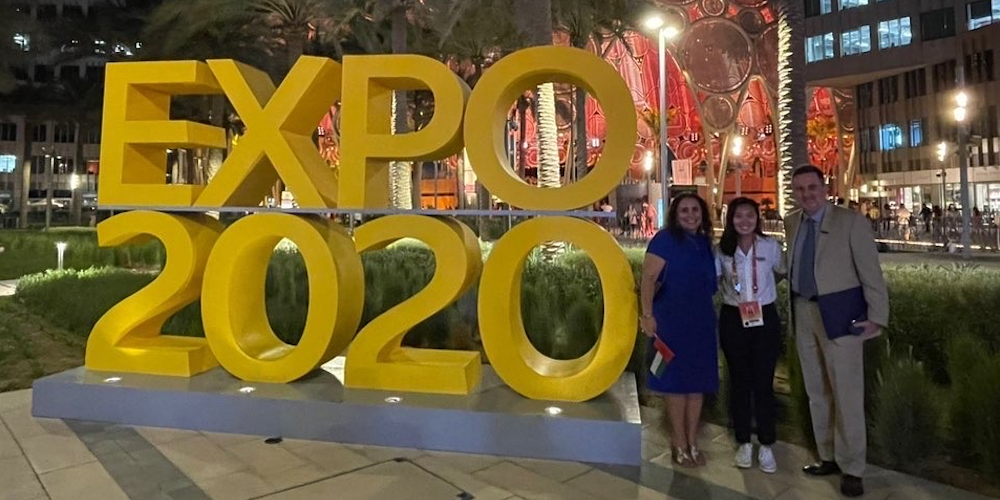 Did you know that inventions like Seattle's Space Needle and the Ferris wheel, as well as items we take for granted like the telephone, were first revealed at "world's fairs," which today are known as "expos"? For young aspiring diplomats, these exhibitions provide rare opportunities to gain work experience and a taste of what diplomacy is about, with the added benefit of making connections with people from around the world. Since the first fair in 1851, the United States has hosted 20 such events.
For American students and recent graduates interested in diplomacy, there aren't many ways to get a realistic sense of a career in the field. The State Department offers a limited number of internships, and working for a nonprofit in Washington isn't the same as being in the Foreign Service. I chose to become one of the department's "youth ambassadors" at the 2020 Dubai Expo in the United Arab Emirates (UAE), which, just like the 2020 Summer Olympic Games in Japan, took place in 2021, because of the Covid-19 pandemic.
Fresh out of college, I joined 74 other Americans to staff the USA Pavilion in Dubai, which celebrated freedom, diversity and innovation. In addition to sharing innovation, world fairs aim to educate the public, promote progress and foster cooperation. This was the first time an expo was held in the Middle East. We were the first points of contact at the U.S. pavilion, greeting millions of visitors, including diplomats and other government officials. Our motto was "Life, Liberty and the Pursuit of the Future."
Interactions with visitors came easy because of the diversity and talent of our cohort. We were between 18 to 30 years old, hailed from 46 states and territories, spoke more than two dozen languages, and had degrees or experience in fields as diverse as landscape architecture and environmental activism. The State Department wanted us to be the "faces of America."
"Where is the stamp? Do you have a pin?" These were some of the first questions I heard from guests at our pavilion, which resembled a small modern museum. Collecting stamps and trading pins was a true staple at the expo, as these were the tangible takeaways visitors remembered most. They often adorned lanyards decorated with country pavilion pins, collected stamps in bright yellow "expo passports," and even carried pins in towels like hidden treasures.
I was often amused by the stamp-and-pin culture, because, of all the questions visitors could ask us, especially for those who had never been to the United States and were meeting an American for the first time, they chose to talk about these two simple things. This was not what I thought people would want to know, but the enthusiasm was contagious. Soon enough, I found myself embracing the stamp-and-pin trading spirit, determined to collect them all. What was once a conversation-starter turned into friendships and unforgettable memories, including the importance of understanding how others think and what matters to them.
I learned that diplomacy is not only about stating your positions and hearing those of other countries, but also about empathy — without necessarily sharing or accepting your interlocutor's views, you have to understand where they are coming from. That is the most effective way to design policies that influence foreign countries and further your national interest. While visiting other pavilions and interacting with their staff, I gained insight into their history and culture. I also got to know them as people, which transcended preconceived notions of national stereotypes, language barriers and political opinions. Cultivating such connections is critical to mutual understanding, and to the ability to overcome differences and find common ground.
During the four months I lived in the UAE, I learned two other lessons about diplomacy. First, connecting minds and creating the future takes work. The most visible aspects of public diplomacy are often the result of vigorous planning, mundane but important tasks, and the convergence of financial, programmatic, geopolitical and leadership priorities. Second, diplomatic service is not just a career but a way of life. Reinventing who I was in a foreign country, away from family and friends for an extended period, and dealing with loneliness was no easy adjustment. Being abroad, whether participating in an exchange program, studying, working or traveling, is exciting but can be difficult. Life in the Foreign Service means not having the support systems you can rely on at home.
Still, my expo experience ignited a purpose to serve my country at home in a career of public service. Hearing and reading about the various issues that developing countries at the expo endured piqued an interest in how the U.S. government planned to deal with those challenges. After I returned from Dubai, I started working at the U.S. Agency for International Development, where I attend meetings with like-minded foreign partners trying to address some of the world's most pressing problems.
The first meeting I went to was with the president of Guyana, a country I remember fondly from the Dubai expo — not only because of its collectible stamp and pin, but because of the warmth and generosity of its pavilion staff. I brought along my Guyana-themed pencil pouch, a gift from the pavilion, as a good-luck charm. Since then, I've tried to bring memorabilia whenever a delegation comes to meet with my boss to spark conversations, and as a reminder of the difference personal connections can make.
Some of my fellow "youth ambassadors" say that the expo was like a dream, while others think it was a magnified version of a Disney theme park. When I explain the experience, I often compare it to what I imagine competing in the Olympics must feel like: exciting, surreal and potentially life-changing. Every interaction was made possible by the solidarity among different countries and cultures, one pin and stamp at a time.
ABOUT THE AUTHOR
Caitlyn Phung is a program analyst at the U.S. Agency for International Development in Washington, D.C.