Love and Loss: Valentine's Day in the Foreign Service
Diplomats work hard to prevent bad things from happening, but sometimes tragedies occur even on the day that celebrates love.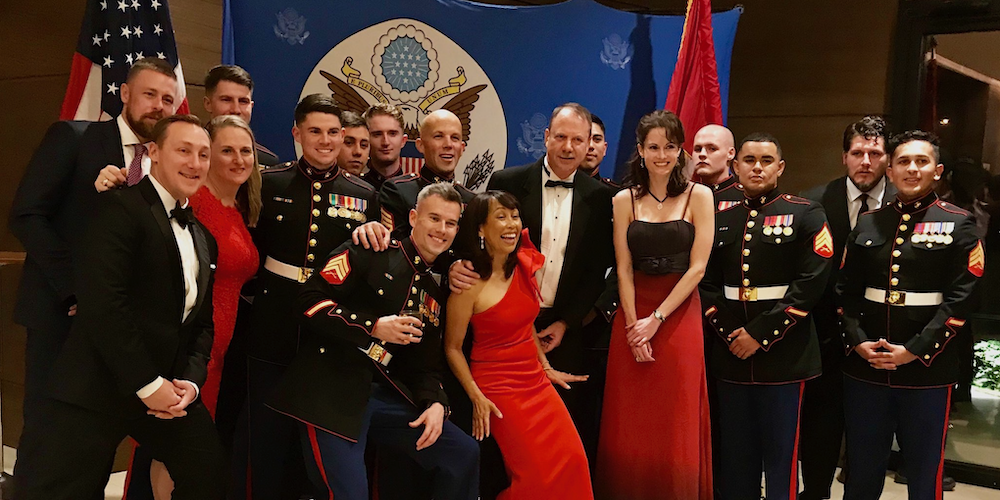 On Valentine's Day in 1968, U.S. diplomat James Bullington was reunited with his fiancé after one of the most memorable battles during the Vietnam War. In 1979, the American ambassador to Afghanistan, Adolph Dubs, was killed by militants on that day. In the early 1990s, the U.S. Consulate General in Sao Paulo, Brazil, sold roses on Valentine's Day to raise money for its annual Marine ball in the fall. And in 2019, the American Embassy in the Philippines sought to "spread the love" on February 14 by explaining how to apply for a U.S. fiancé visa on social media.
Like on any day of significance or particular meaning, diplomatic missions around the world use the opportunity for outreach and engagement on Valentine's Day, which is usually marked by joy and optimism. Even though diplomats work hard to prevent bad things from happening, sometimes tragedies occur, including on the day that celebrates love.
Dubs was the fifth U.S. ambassador to be killed by terrorists in just over a decade. After his assailants kidnapped him and took him to a Kabul hotel, they demanded the release of an imprisoned political leader. Bruce Flatin, the chief of the embassy's political section, briefly spoke with his boss through a door, before the militants suspected a trick and cut off communication. Flatin was the last American to talk to Dubs.
The United States demanded no immediate action against the kidnappers, Flatin recalled in a 1993 interview for the Association for Diplomatic Studies and Training's (ADST) oral-history project. The police raided the hotel despite earlier assurances to the contrary, and after just 40 seconds of gunfire, Dubs was dead. "When the whole thing was over, there could not have been one cubic centimeter in that room that didn't have a bullet pass through it," said Flatin, who was allowed in after the guns went silent. "A gnat flying in that room would have been hit."
The embassy's press attaché, Bruce Byers, recounted the incident, memorial service and media coverage in a letter to his family. "On Valentine's Day, [Dubs] gave his life in service to us and to all Americans," Byers wrote. "I have written you this account also to show you the unpredictable, deadly serious side of my profession. We are all targets. We Americans are the easiest, most prominent marks for terrorist activities." Dubs' murder led to a rapid descent of U.S.-Afghan relations. Washington questioned the veracity of the official Afghan report of the events, including how the ambassador died and who was responsible for his death, said Flatin, who passed away in 2022.
The ending of Bullington's Valentine's Day story was much happier. He was a junior Foreign Service officer serving in Vietnam in 1968, when he set off to visit his Vietnamese fiancé, Tuy Cam, in the city of Hue. She worked as a translator at the U.S. Consulate there. However, the North Vietnam army and its ally the Viet Cong launched a surprise attack against South Vietnam and U.S. forces, in what would become known as the Tet Offensive. The battle forced Bullington into hiding among Catholic missionaries by pretending to be a priest. Under heavy shelling, including a barrage that destroyed the second story of the house where he stayed, he worried about Cam, with no word about her or her family. After nine days, U.S. Marines entered the area and rescued him.
"They wrapped me in a blanket and carried me out as if I were a wounded Marine, so the neighbors would not see that these priests had been harboring an American," Bullington said in a 2001 ADST interview. "I had invited — in fact urged — the two priests to come with me to safety, but they had pastoral duties they felt kept them there. They wanted to stay and minister to the flock." Having received word that Cam was still in Hue, Bullington hitched a helicopter ride to the city. "When I landed, she was there! She and her family had just made it to safety that morning, and she had come to the helicopter pad to look for me," he recalled. "We were reunited on Valentine's Day." However, Cam lost two brothers during the offensive. 
Bullington and Cam were married the following month at the U.S. Consulate in Hue. In 1983, he became the U.S. ambassador to Burundi.
In the 1990s, Susan Clyde was the senior public affairs officer at the U.S. Consulate General in Sao Paulo, where she chaired the post's Commissary board. The board's manager had an idea that could help raise funds for the annual ball celebrating the U.S. Marine Corps' birthday in November, a highlight on any American diplomatic misson's calendar. The manager, Maria Alicia Parkerson, suggested buying very low-priced roses at a local market and reselling them to consulate staff for a small profit on Valentine's Day. Members of the Marine Security Guard agreed to deliver the roses to buyers when off duty, though still wearing their signature blue uniforms.
Anticipating modest interest, Parkenson picked up two dozen roses from the market. But it "snowballed," Clyde recalled in a 2012 ADST interview. "Soon everyone in the building was ordering roses to be delivered to other individuals or to their entire staff, men and women alike… Alicia had to make two more trips to the market to keep up with the demand, and just about everyone went home that evening with an armful of roses. We raised several hundred dollars for the Marines, and it added a fun kick to the day."
Many Americans, including diplomats, marry citizens of other countries, and the immigration requirements they face are often challenging. On Valentine's Day in 2019, the U.S. Embassy in the Philippines decided to educate the public in the southeast Asian nation about how to apply for a fiancé visa, known as a K-1 visa, in a video posted on social media. It told the story of an American woman and a Filipino man who had gone through the visa process successfully. Although their names were withheld and their narration appeared scripted, it helped to demystify the procedures and made clear that people should not use the services of unauthorized visa brokers. The video was viewed more than 22,000 times on Facebook.
French diplomatic missions, while away from their government's headquarters in the City of Love, come up with various initiatives to celebrate Valentine's Day. The French Embassy in Washington usually hosts a dinner where paying guests dine on traditional French food prepared by the embassy chef. In 2015, the French Consulate General in Istanbul published a "lovers' dictionary" in French and Turkish. This year, the French Consulate General in New York hosted a concert of the French-American Piano Society.
Empathy helps diplomats to better understand their foreign interlocutors and find common ground. It's an essential quality for an effective negotiator. Love is not required, but it doesn't hurt, either.
ABOUT THE AUTHOR
Robin Holzhauer is the Diplomatic Diary's senior editor. During more than 20 years as a Foreign Service officer, her postings included Russia, Kosovo, Venezuela, Lebanon and Gabon.