How Agricultural Diplomats Help to Feed Americans, and the World
They maintain and expand access to markets, promote U.S. exports and help developing countries improve their agricultural capacity.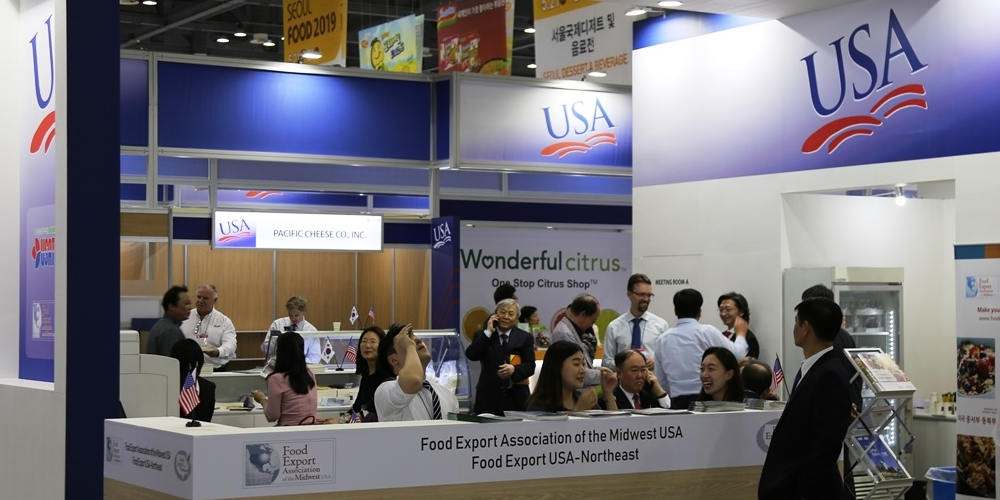 I met my husband in lockup — but a lockup of a peculiar kind. In my first job at the U.S. Department of Agriculture (USDA) in the early 1990s, I was a commodity analyst responsible for tracking and analyzing the global trade of wheat and forecasting future production, supply and demand. This information was so sensitive that we were herded into a secure area, with sealed window shades and all communications blocked, while we finalized the trade numbers for the department's monthly World Agricultural Supply and Demand Estimates report. The time I spent in that room was long enough to lead to a romance, and eventually marriage.
The part of USDA where I worked was the Foreign Agricultural Service (FAS). I spent my first decade there as a civil servant in Washington, after which I became a Foreign Service officer and was posted overseas. Along with the State Department's Foreign Service, the Department of Commerce's Foreign Commercial Service and the U.S. Agency for International Development, our small agency helps to carry out the foreign policy of the United States. Founded in 1930, FAS has about 100 offices at embassies and other diplomatic missions around the world. As agricultural diplomats, we gather market intelligence, maintain and expand access to foreign markets, promote U.S. agricultural exports and help developing countries improve their agricultural capacity. The information and analysis in about 2,000 reports we produce every year underpins Washington's policy decisions.
FAS also provides cost-share funding to U.S. agricultural producers and processors to develop new markets and to mitigate the adverse effects of trade barriers. FAS has a network of cooperative agreements and long-standing relationships with U.S. commodity groups and international organizations. They are primarily non-profit commodity and trade associations, such as the U.S. Soybean Export Council, the Almond Board of California and the U.S. Meat Export Foundation.
During my first overseas tour in the early 2000s, I worked in the agricultural trade office at the U.S. Embassy in South Korea, a service center for American exporters and foreign buyers seeking market information. Our job was to understand the local market so well that, whenever a U.S. supplier came to us with a product, we could tell whether it was a good fit, and if it was, we knew the best buyers to target. Our matchmaking resulted in large and small sales, and our success led to what became the largest food trade show in South Korea, the Seoul Food Show. We also sponsored South Korean buyers to attend U.S. trade shows, including the popular Natural Products Expo West in California.
Another achievement of our office was the reversal of a ban on U.S. beef. In 2003, South Korea was the third-largest market for U.S. beef exports, but that changed when a positive case of what is commonly known as mad cow disease was discovered in Washington state. Overnight, grocery stores pulled American beef products off their shelves, and imports were officially banned. For years, we worked with the U.S. beef industry and other U.S. government agencies to negotiate the resumptions of imports. Things came to a head in 2008, when the South Korean government finally agreed to a partial reopening. That led to massive months-long protests and boycotts of businesses, which almost toppled the government. The police had to erect barricades to keep the U.S. Embassy and its employees safe from the hundreds of thousands of protesters. Today, the United States is again the largest supplier of beef to South Korea.
While I worked in the embassy's agricultural trade office, my husband was in the agricultural affairs office — both under FAS. When our assignments came to an end, we switched offices and remained in Seoul for another three-year tour. Having previously focused on trade promotion and helping U.S. businesses, now I worked on policy matters, information-gathering and analysis. Our two countries had started negotiating a free-trade agreement, and as part of the U.S. negotiating team, I prioritized our most important market-access issues and developed papers outlining our strategy and action plans. When no one from Washington could travel to Seoul, I led the negotiations and was able to convince the South Korean government to simplify their import requirements for products produced through biotechnology.
The negotiation was a long and frequently adversarial process, during which I fielded countless late-night calls from Washington. The last 25 days were a marathon of consultations, strategy sessions and negotiations. In the end, we did it, and it is one of my proudest accomplishments. South Korea's agriculture sector is highly protected, with average tariffs exceeding 60 percent, but with our agreement, the United States has duty-free access on nearly two-thirds of our exports. In 2021, we had an $8.2 billion agricultural trade surplus, according to the Congressional Research Service.
After six years at the USDA headquarters in Washington, following my tours in Seoul, I headed to the U.S. Embassy in the Netherlands as the agricultural attaché. I covered six countries in northern Europe with only three local staff members. We spent a lot of time securing the release of detained shipments at the Port of Rotterdam. Because trade policy is usually a slow-moving train, I worked on market-access issues that my predecessor had started, and my successor would finish.
In addition to trade policy and promotion, FAS leads USDA's efforts to improve food security and economic growth in developing countries. We administer programs that provide mentoring and training to researchers and policymakers, fund technical assistance and help reduce hunger and improve literacy, especially for girls. 
I recently retired, but I still say "we" when I talk about FAS. Our 140 Foreign Service officers, about 350 local staff abroad and 1,000 employees in Washington continue to work hard to make sure that Americans benefit from safe agricultural imports, and that U.S. businesses have access to a level playing field in overseas markets.
ABOUT THE AUTHORS
Susan Phillips is a retired member of the U.S. Foreign Agricultural Service. During her 31-year career, she worked in Washington, South Korea and the Netherlands.