Why It Can Take Two Years to Get a U.S. Visa
Demand is far outstripping resources, and the State Department has no great options as it struggles to clear the huge backlog of applications.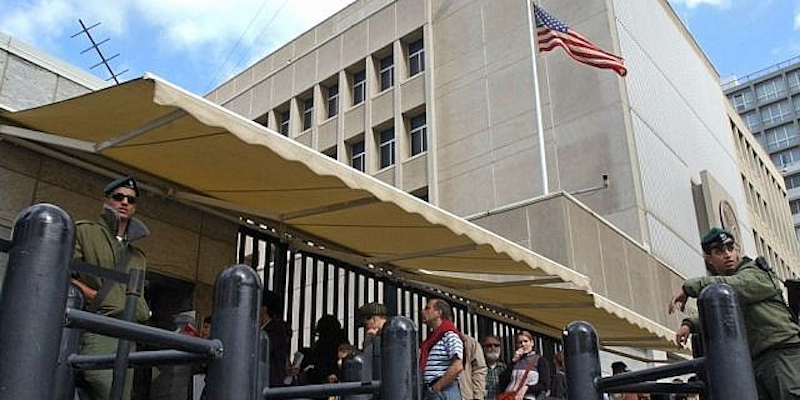 A global outrage at the United States has been simmering for months, even if few Americans have noticed. In dozens of countries from Asia to Africa to Latin America, the fury has reached a boiling point. The wait times for travelers who need U.S. entry visas to appear for an interview at an American embassy or consulate can exceed two years. This is the matter increasingly topping the agenda when officials from the affected countries meet with their U.S. counterparts. The complaints seem endless. Students arrived late for the fall semester, workers have yet to show up at their new jobs, relatives have missed weddings and other family gatherings.
Many blame the State Department, which clearly wasn't prepared for the post-Covid deluge in visa applications. But the reality is that, in the short term, the department has no great options without compromising the integrity of the U.S. visa process. In the last several months, it has taken some steps to address the crisis, such as creating a mechanism that gives priority to applicants for student and work visas, as well as visitors who have an urgent need for travel, including medical treatment and attending a funeral. In addition, the interview requirement for most applicants who had a visa that expired in the last four years has been waived. That has provided some relief, and in many countries the wait times have been reduced to weeks or even days.
Still, in some countries, the delays for visa interviews, which the department posts on its website, are shocking. The U.S. Embassy in New Delhi currently has a wait of 914 days for B1/B2 visitor visas, which are used for business, tourism and family visits. There is a 708-day wait in Lagos, Nigeria, 652 days in Mexico City and 106 days in Tel Aviv, Israel. Even applicants who qualify for an interview waiver have to wait for processing 225 days in New Delhi and 175 days in Mexico City. The media in those and many other countries is filled with stories lambasting the delays and begging for help. "Securing a U.S. visa interview appointment these days can be described as a camel attempting to pass through the eye of a needle," a Nigerian newspaper wrote in June.
How did we get here? Since 9/11, U.S. law has required the State Department to interview in person almost all visa applicants, with exceptions for children and the elderly — that means tens of millions of people around the world every year. Those interviews may be conducted only by consular officers at embassies and consulates abroad. Before Covid-19, consular sections were by far the largest at most overseas posts, with many officers interviewing more than 100 visa applicants a day each.
Having survived a tumultuous post-9/11 overhaul and criticism for having allowed the 19 hijackers into the United States, the department's Bureau of Consular Affairs had a fairly good handle on the visa process by 2017, and wait times were reasonable. Record Foreign Service hiring during the Obama administration, coupled with a requirement for all new officers to work in a consular section for at least a year, even if they had chosen a political, economic or another career track, helped to staff most positions abroad. To fill the rest, the department created a novel category of workers called "consular fellows" and hired Americans fluent in Mandarin, Arabic, Spanish or Portuguese for five-year assignments overseas.
But then things started turning south. Hiring decreased during the Trump administration, and some Foreign Service officers resigned in protest of the administration's mistreatment of diplomats and neglect of diplomacy. The pandemic shutdown was the final straw. Before Covid, the Bureau of Consular Affairs brought in about $3 billion in revenue from service fees. It was allowed to retain 78 percent of that revenue and was almost entirely self-funded. However, when embassies and consulates closed down in early 2020, and no money came in for about a year, that funding model proved disastrous.
Even though there was no budget and consular officers couldn't provide any services, their salaries had to be paid. The department managed to find a temporary solution, but when those officers rotated out after their two-year entry-level tours, their positions remained vacant. Most consular fellows were sent home, and hiring for those positions stopped. At the time, it wasn't easy to predict how quickly travel would rebound, how many people would need visas, and how quickly. When travel did come back with a vengeance, the travel industry was caught off guard. We all remember the packed planes and numerous airline problems last summer. So it shouldn't be much of a surprise that the State Department wasn't prepared, either.
What could have the department done differently had it anticipated the huge demand for visas? The only thing that might have helped is filling all vacant consular positions and creating additional temporary ones. But where was the department supposed to find people for those positions? Those who had rotated out were already in new roles at other posts. And it takes about two years to bring in new Foreign Service officers, given the lengthy examination and security clearance processes. The department actually increased the number of new hires this year, and it resumed hiring for consular fellows, but in some countries, a meaningful difference on clearing the visa backlog is yet to be seen.
What about the thousands of existing Foreign Service officers who work in embassy offices other than consular sections? Most of them performed consular duties at the beginning of their careers. Could they move to visa lines for a few weeks or months? If they did, who would do their current jobs? Embassies and consulates are understaffed as it is. It's more likely that the State Department could spare officers currently working in Washington, rather than employees overseas. But those officers would need training — consular work has changed significantly since they conducted visa interviews, and mistakes can seriously affect applicants' lives.
At some overseas posts, adding more positions might require more space for visa operations. That would mean either converting unclassified space currently used for other purposes and putting in special interview windows or adding structures to embassy buildings, which would likely not be needed when visa demand subsides. The State Department has been resisting for years a travel industry push for virtual visa interviews, saying that consular officers can't make fully informed decisions about applicants' honesty and intentions from a computer screen. Even if the department agreed, it's still legally required to collect biometric data, so candidates must show up in person anyway.
The reality is this: Demand is far outstripping resources, so it will take time to resolve the crisis. Even if all vacant consular positions were filled tomorrow, the backlog would likely take months to clear. I'm told new measures are coming, and they can't come fast enough. The U.S. visa process is already the most cumbersome in the world. It was designed with security as the top priority, given the 9/11 experience. But making it even more difficult for legitimate and eligible travelers to visit the United States doesn't help anyone, least of all the American economy.