Split Loyalties: The Non-Americans in U.S. Diplomatic Missions
About 50,000 local staff around the world keep embassies and consulates running. I was one of them for nine years.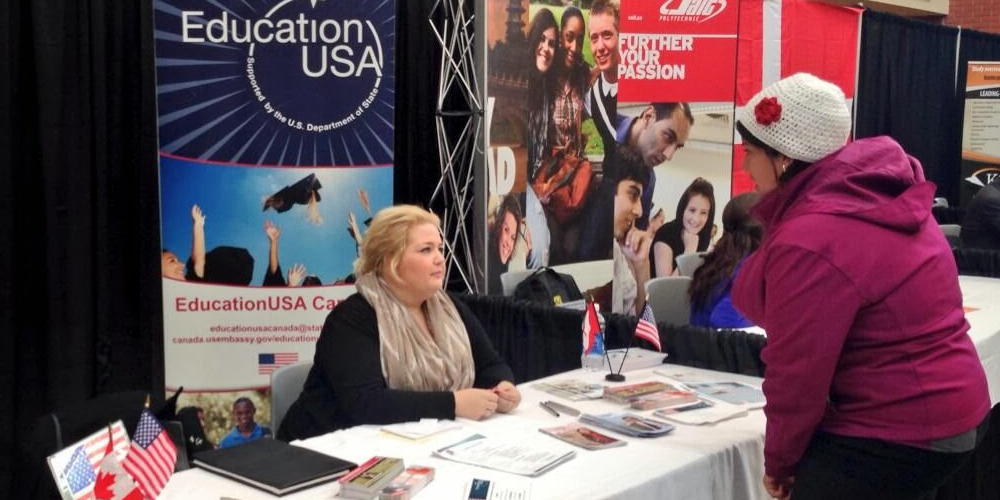 The United States and Canada are as close as two allies can be. Americans and Canadians have more in common than perhaps any other two peoples. Still, Canadians working for U.S. diplomatic missions in Canada sometimes have to contend with internal conflicts and split loyalties. After all, the United States and Canada are sovereign countries whose interests don't always converge. Local Canadian staff of the U.S. Embassy in Ottawa and seven consulates around the country must balance their national identities and working for a foreign government.
For nine years, beginning in 2012, I worked in the public affairs section of the U.S. Consulate General in Calgary, the largest city in the province of Alberta. My local colleagues and I had been hired ostensibly for our Canadian perspective, but we were also expected to promote U.S. interests. In addition to the need to reconcile our personal views on some matters with the policies we had to support at work, from time to time we found ourselves embroiled in arguments with family and friends.
The Keystone XL pipeline, which was supposed to transport oil from Canada to the United States, was one such recent example. Some of our local staff felt torn when President Biden canceled a key permit previously granted by the Trump administration, as soon as he took office in January 2021. That decision, which was based on environmental concerns, contradicted Canada's official policy and cost more than 1,000 Canadian jobs. Disagreeing with your employer on some issues is normal in any job, but in this case, an internal conflict can be significantly amplified. This was very different from the U.S.-Canadian rivalry in hockey.
Such a dilemma, however, pales in comparison to what our colleagues in other countries experience every day. I don't envy the Chinese employees of the U.S. Embassy in Beijing. Last year, the Russian government forced the U.S. Embassy in Moscow to dismiss all local staff. Even with the loss of those employees, there are about 50,000 non-U.S. citizens working at American embassies, consulates and other diplomatic missions around the world. They aren't considered "diplomats," but they play a critical role in running those operations and carrying out U.S. foreign policies.
In my job in Calgary, in addition to supporting those goals, I educated U.S. diplomats, who served here for three years at a time, about Canadian culture — contrary to popular belief, it's not the same as American culture. Nestled at the foothills of the Canadian Rockies, Calgary has a population of about 1.3 million. Many Americans are familiar with its oil and gas resources, as well as its love of rodeo. It's evolving into a cutting-edge city with a burgeoning entrepreneurial scene and rich cultural institutions. Ensuring that newly arrived U.S. diplomats appreciate the region's history, traditions and current trends is one of the many duties of the local staff.
In most countries, employment with a U.S. diplomatic mission is coveted in the local job market and carries a sense of pride. Despite the challenge of split loyalties, many local employees view their work as an opportunity to help improve their country's relationship with the United States. In my public diplomacy position, I was able to serve my community and have experiences I wouldn't have had otherwise. Among them were an entrepreneurship initiative for indigenous women in the Arctic, a basketball camp for disadvantaged youth with former NBA star Jerome Williams, and programs in the areas of women's leadership and LGBTQ rights.
Local employees, once known as Foreign Service nationals, are considered the institutional memory of diplomatic missions. They help Foreign Service officers to understand their host-country and interpret it for Washington by providing local context for political, economic and social developments, drafting reports and keeping records. Many work for the U.S. government for decades.
Although our general duties are similar, every country is different — for example, some respect human rights while others abuse them. The United States and Canada share similar values, but they are not the same countries. U.S. diplomats need to adjust, which comes as a surprise to many. One of the biggest expectations I had to recalibrate for my bosses was the level of media engagement. They often came to Canada after serving in countries where the media trip over each other to get an interview with the ambassador or an invitation to an embassy event. In many countries, the U.S. embassy may be the only source of information on a particular topic. But in Canada, journalists enjoy press freedom and have access to many other sources. They don't pay much attention to embassy press releases.
Our cultural programs rarely make headlines, because American experts, artists and celebrities come and go on their own accord. Exhibitions that bring a rare glimpse of the United States in other countries are just another Saturday night option for Canadians. This forces diplomats — and local staff — to get more creative and find a niche that will resonate with specific audiences. Bringing Jerome Williams for the basketball camp was one such example.
It's always a good idea for anyone who travels internationally to get an "in" with the locals, so they can help discover hidden gems and key people to meet. This is especially true in the Foreign Service, where diplomats need to understand and process information quickly, and to make decisions that have lasting and significant consequences. Local staff lift the level of engagement, effectiveness and access. They are not the help — in fact, a diplomatic mission can't function properly without them. Just ask the U.S. Embassy in Moscow.
ABOUT THE AUTHOR
Casey Bohn is a former public affairs specialist at the U.S. Consulate General in Calgary and now works at a public relations firm in the same city.