Applying Bruce Mau's Life-Centered Design to Diplomacy
Dealing with problems "in the complexity of the ecosystem that creates them is probably the hardest thing to do," says the Canadian designer.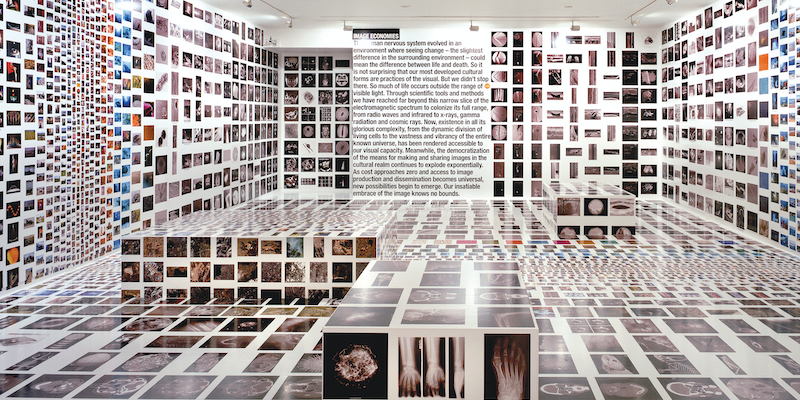 Bruce Mau started out as a graphic designer but came to realize that design isn't just a way to arrange things — he views it as a leadership methodology he has applied to arts, architecture, education and philosophy. The main concept is that everything we do must be part of the connectivity of life, not out of context or separate from nature. Does this apply to diplomacy?
The famed Canadian's answer is a resounding yes. Beyond promoting environmentalism, he believes that his concept can help formulate and implement policies that address all aspects of a problem, as well as the way that problem relates to human life. He has outlined his principles for "designing massive change" in his book "Mau: MC24." He also co-founded a company called Massive Change Network, a holistic-design collective based in Chicago.
"From a diplomatic standpoint," dealing with problems "in the complexity of the ecosystem that creates them is probably the hardest thing to do," Mau said in an interview. "Trying not to extract them and solve them and cut them away from the implications. That old way of thinking has produced the new higher-order challenges we now face."
Migration is just one example of a problem "we have taken out of context, focusing on borders rather than seeing the entire issue," he said. "We see [immigrants] massed at the border so we try to think of solutions that will work at the border. What we need to do is think about all of the invisible forces that are pushing folks into these extreme conditions, so that they then end up" at the Polish border, he said in reference to the recent diplomatic and humanitarian crisis caused by Belarus' president, Alexander Lukashenko. His government brought thousands of people from Iraq and other countries to Belarus' border with Poland, which has refused to accept them.
The Biden administration suspended its predecessor's effort to build a wall along the U.S.-Mexico border and redirected some funds to address the causes of migration in Central America. Yet the work is not quite the "life-centered" concept Mau advocates. Despite Biden's focus on root causes and extreme weather conditions contributing to migration, the plan hasn't integrated climate actions into the immigration discussion. Mau said that integration is needed more in diplomacy. "We are not separate from or above nature," he said. "We still do everything as if nature is unlimited, as if we own it, as if we have dominion over all of life. What's become abundantly clear is none of that is true."
Mau's goal is for both top leaders and mid-level management to incorporate life-centered design into their implementation of foreign policy. Those in charge of budgets, programming and human resources can make a difference, because allocation of resources is a form of design. "Having a better grasp of how you will focus your time, energy and money on accomplishing what you are trying to accomplish is going to result in better outcomes," he said. "The way this will change is bottom up and top down. We need people in the field saying, 'You know what, there has to be a better way of doing this.' We can actually design the outcomes we want. They can be smart. They can be ecological. They can be economic. They can be politically aligned with what we are trying to accomplish."
U.S. public diplomacy officers and others who share and distribute information about the country must also integrate life concepts more into their outreach, and let more people know what the country is doing to help itself and the world. Despite many embassy social media accounts and in-person diplomatic events, not enough people know what diplomats do and how diplomacy affects their lives. The United States "does so much amazing work, and we get very little credit for it," Mau said. "I think there is a big opportunity to communicate what is really going on and what the diplomatic service is accomplishing every day. You have a situation where the perception of the work is left to Hollywood and newspapers."
People who achieve great things should be known, he added. We know almost nothing about people who eradicated disease, saved communities or kept the peace. Those names should be as recognizable as Lady Gaga or Brittany Spears.
"If you think about what we have accomplished in the world in the last 70 years, it's absolutely staggering," Mau said. "The wealth that has been created, access, transformation. We've doubled life expectancy in the last 100 years or so. And so much of this is accomplished through this hard-won process of diplomacy and getting people to agree. It's such transformative, life-changing, world-changing work. But it's just not being seen by the people of the world. As a consequence, they don't believe it. They don't support it. They are disconnected from it and don't have any reason, when the chips are down, to come to the aid of the people who are really doing the work."
The negatives, misconceptions and mistakes often grab headlines. Difficulties diplomats face, both in their careers and lifestyle, combined with misinformation about their work, can make inspiration hard to come by. But Mau believes fact-based optimism and building recovery into the job will keep people inspired. "In all kinds of work, we are not really acknowledging the [psychological] costs, the energy expended in work that we do," he said. "Built into the [work] process needs to be time to recover their energy and outlook. Think about how critical diplomatic outcomes are to the economy, to security, to our standing in the world. Why wouldn't we design that to have optimum performance for our people."
Although the State Department offers mental health and counseling services to direct-hire employees, many feel there is a stigma attached to using them. Some diplomats fear that using those services could affect their security or medical clearances. The department's handling of the so-called Havana Syndrome, a set of symptoms with unknown causes sometimes described as a psychogenic illness, which has affected diplomats and intelligence and military personnel serving in Cuba and other countries, has been criticized as inadequate. The department's response to post-traumatic conditions experienced by staff during the Afghanistan evacuation in August has also come under fire.
Diplomats in top condition produce top results, and without changes, the world will suffer "in the worst possible way," Mau said. Diplomats can help people understand and contribute to a life-centered approach that will allow humanity to survive and thrive. It will require fortitude, resources and a new way of thinking, he added.
"I don't think it's easy at all," Mau said. But "everything we are doing now, we designed. If we designed it, we can redesign it. When we see the shortcomings, we can figure out how to do it in a better way. The next couple of decades are absolutely critical to life on this planet. A big part of the success of these coming years is going to be determined by the success of our diplomats."
ABOUT THE AUTHOR
Robin Holzhauer is the Diplomatic Diary's senior editor. During more than 20 years as a Foreign Service officer, her postings included Russia, Kosovo, Venezuela, Lebanon and Gabon.