How to Prepare for Renewed Great-Power Rivalry
The State Department must better equip U.S. diplomats to outmaneuver an assertive China and an aggressive Russia.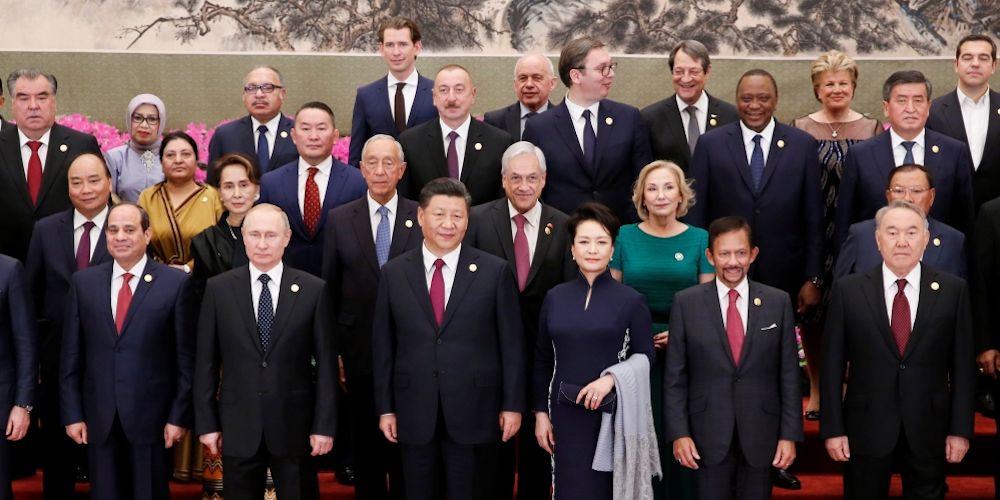 The United States views the Belt and Road Initiative, China's most ambitious effort yet to gain influence around the world through massive infrastructure investments, as a threat to American interests. Despite warning several countries against participating in the program, however, Washington hasn't designed a global diplomatic strategy to disrupt it. In fact, most U.S. diplomats are not sufficiently trained for the return to great-power rivalry in international politics. The State Department must start better equipping them to outmaneuver an ever-more assertive China and a newly aggressive Russia.
Currently, the department recruits and trains its workforce for a very different mission. Very few Foreign Service officers with experience during the Cold War, the last period of great-power rivalry, are still working today. The vast majority of their colleagues joined the service in the past three decades, a time when the world was described by foreign policy experts first as unipolar, and later as multipolar, with the United States still the dominant power.
Having celebrated the Soviet Union's collapse, Washington decided that major threats in the foreseeable future were unlikely to come from a defeated and humiliated Russia or any other nation-state. So it embarked on extending the Western-led international order it had created after World War II to Moscow's former satellites in Central and Eastern Europe. American diplomats' efforts to help those countries adopt democracy and market economy became known as nation-building.
After 9/11, the George W. Bush administration vastly expanded those efforts globally, arguing that failed and poorly governed states become safe havens for terrorists, directly threatening U.S. security. It tasked the Foreign Service with "transformational diplomacy," whose mission was "to change the world" by helping "foreign citizens better their own lives." Likewise, the Obama administration charged U.S. diplomats with shaping "the world we seek."
So this is what the Foreign Service has been doing all these years — helping countries enhance their security, improve their governance, bolster their economies, elevate human rights and expand access to education. Another part of the service's mission has been to confront newly emerging threats, such as climate change, transnational crime and pandemic disease.
Based on this mission, the State Department has been recruiting and training Americans with program-management, team-building, advocacy and organizational skills. It has hired the most diverse, even if not diverse enough, diplomatic service in history — ethnically, professionally and in every other sense. The department decided that degrees and previous experience in international relations weren't necessary, as long as diplomats could make things happen on the ground in foreign countries.
The United States' competition with China and Russia will grow significantly in the future. Instead of becoming "responsible stakeholders" in the international system, as Washington hoped, the authoritarian regimes in Beijing and Moscow have concluded that the system threatens their survival. So they have embarked on attacking it and undermining its rules. Russia has been buttressing its sphere of influence — a signature Cold War tactic — in former Soviet states. It has also waged an assault on Western democracies by interfering in U.S. and European elections. China has engaged in massive theft of intellectual property, mounted a zealous military buildup in the South China Sea and launched the Belt and Road Initiative.
Countering such threats is the mission for which the State Department should start training its diplomats and focus on skills like strategic thinking, policy analysis, persuasion and long-term planning, as well as a much firmer grasp of history. Previous experience in international relations would help, too. The current system overwhelmingly prizes operational skills and doesn't produce the best policy advisers, on whom the secretary of state and the president must rely during tough high-stakes negotiations and inexorable strategic crises with competing foreign powers. Partly for this reason, presidents have leaned much more heavily on political appointees in recent years.
The Foreign Service doesn't have to abandon the mission of promoting democracy, good governance and human rights — that is likely to remain a staple of U.S. foreign policy for a long time. But we need diplomats with both skill sets. Since it's difficult to find people equally good at both, the State Department might consider different Foreign Service entrance exams, training curricula and professional development paths. After all, managing embassy facilities or helping distressed Americans overseas is very different from preventing Turkey from acquiring a Russian missile system or persuading Italy to shun the Belt and Road Initiative.
The department must also put significant pressure on future presidents to stop handing out ambassadorships to unqualified political appointees. Ryan Scoville, a law professor at Marquette University, has obtained and analyzed previously undisclosed documents on the credentials of hundreds of political nominees since 1980. He found that only 15 percent of them had experience in the region where they were about to serve, and more than half had no foreign policy experience of any kind. They didn't undergo proper training, either, which is still the case today.
A great power can't win geopolitical victories with politically connected but amateur envoys. It needs well-trained professional diplomats.