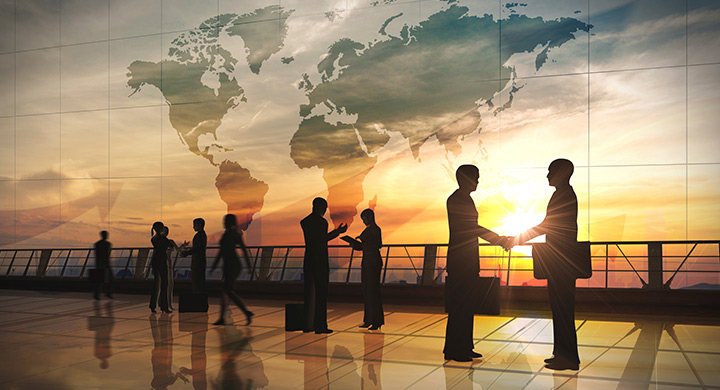 A Seminar for Business and Nonprofit Executives
September 26-27, 2018
Washington, DC

OVERVIEW
As companies with a global presence pursue their own foreign policies, this seminar is designed to help executives — particularly those working in government affairs — to navigate both the U.S. administration and foreign bureaucracies more effectively to achieve specific goals. With a focus on the interagency process in Washington at a time of significant uncertainty and unpredictability, the seminar addresses ways in which the U.S. government can assist business operations abroad, such as overcoming regulation and trade barriers, and building and cultivating important relationships.
Some of the most respected diplomats in recent decades join other officials and experts to provide an insider's view of U.S. diplomacy, and how it can help companies create jobs at home and strengthen the U.S. economy. Participants will hone their skills in negotiation, political and economic analysis, crisis-management, government relations and intercultural communication. They will have opportunities to network and socialize with speakers and fellow attendees.
---
DAY 1
8:00 a.m. Welcome Breakfast
9:00 a.m. The Trump Effect on U.S. and Global Diplomacy and the World Order
This session focuses on the impact the Trump administration has had on the way the United States conducts diplomacy around the world, its dealings with foreign governments, and the state of global diplomacy and international relations. It also examines how U.S. leadership and attitudes toward it have changed in the past year.
10:30 a.m. Coffee Break
11:00 a.m. Behind the Scenes of U.S. Policy-Making and Implementation
This session looks at how the foreign-policy sausage is made in Washington. It examines the roles of the various national-security and foreign-policy agencies of the U.S. government, including the State Department, USAID, the Departments and Defense and Commerce, the Treasury and the intelligence community.
12:30 p.m. Lunch
1:30 p.m. Utilizing the Domestic U.S. Foreign-Policy Infrastructure
This session focuses on how businesses can navigate and utilize the federal government infrastructure in Washington as part of their dealings with foreign countries. It examines competing priorities and different bureaucratic cultures among different agencies, as well as between the executive and legislative branches. It also addresses tensions between political leaders and civil servants.
3:00 p.m. Coffee Break
3:30 p.m. Utilizing the Global U.S. Foreign-Policy Infrastructure
This session explores how businesses can navigate and utilize the U.S. diplomacy infrastructure around the world, as well as its relationships with foreign governments. It provides insights into the work of the U.S. Foreign Service at embassies, consulates and other diplomatic missions.
5:00 p.m. End of Session
5:30 p.m. Reception
---
DAY 2
8:00 a.m. Breakfast
9:00 a.m. Rethinking Global Government Affairs in the Trump Era
This session provides a critical look at current practices in global government affairs, along with corporate priorities, hiring and training policies and professional development opportunities. It then offers suggestions about improvements that will bring a positive impact on business operations.
10:30 a.m. Coffee Break
11:00 a.m. Trade and Investment: Challenges to the U.S. Foreign Commercial Service
This session looks at the latest developments and trends in bilateral and multilateral trade and foreign investment, and at how they have been affected by the current administration. It also addresses the challenges the U.S. Foreign Commercial Service and embassies around the world face in securing a level playing field for American business.
12:30 p.m. Lunch
1:30 p.m. The State of Bilateral and Multilateral Sanctions and Other Limitations on Business
This session provides insights into the often-mysterious process of designing and imposing economic and other sanctions on foreign companies, counties, other entities and individuals. It looks at the roles of different agencies participating in both the policy-making and implementation processes, as well as in monitoring and penalizing of violations.
3:00 p.m. Coffee Break
3:30 p.m. Persuasion and Negotiation: Tools and Techniques
This session provides specific tools and techniques necessary in negotiations with foreign governments. It also addresses short-term and long-term relationship-building, as well as relevant aspects of intercultural communication.
5:00 p.m. Conclusion and Presenting of Certificates
5:30 p.m. Reception
---
Registration
The cost of the seminar includes all sessions, breakfast, lunch, receptions and taxes. You can register using our secure credit-card payment system below. If you'd like to pay by check or to inquire about a discount for multiple registrations from the same company, please send us a message using the form at the bottom of this page or call us on 202-656-9828.
---
Have questions? Send us a message!
Please fill out the form below. All fields are mandatory.